Modelo José Feliciano
Guitarra Luthier designed and built by Kai Heumann
We are very proud of the fact that the guitar virtuoso and singer worldstar José Feliciano picked our Guitar as his favorite guitar as you can see on many of his Videos of his latest Worldtour.
He has always been a hero not only for all Latin guitar players including Santana, but also as a Motown Star with worldwide Hits like "Light my fire", "California Dreamin", his own composition Feliz Navidad and many others. With his virtuoso latin nylonsting concert guitar sound  he has changed the Latin and American Pop Music World. 
This Guitar is a one of a kind exclusive masterbuilt guitar and our top of the line guitar!
Its a "Kingsize Concert Guitar" a Size which is not only more comfortable for most guitar players
but equalizes the sound and fits much better the sound of the guitar than the normal concert guitar body.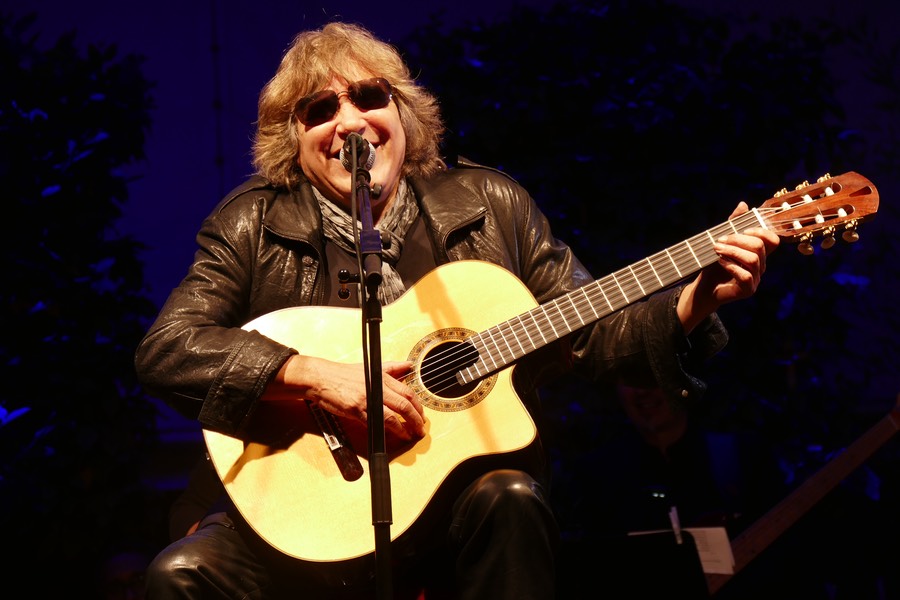 The features are: A lightweigted and specially tuned German "Hochalpenfichte" (German Pine from the high alps) the same wood Stradivari used for his famous violins. Built with modern technology in this case Nomex, we could reach the highest level of guitartop-building. The top of a Guitar is the most important ingredient for a guitar. We wanted to get a very strong tone out of it - in fact this is the highest volume level of a classical guitar we have ever heard, and we have heard a lot of Guitars over all that years! 
The body is made out of the most precious cocobolo, a beautiful wood which sounds warmer than rio palosanto.
The saddle width is 48 mm for José but can be ordered different from that, so if you are more comfortable with a wider or smaller saddle and neck width, we will do it for your necessities.
The string length between saddle and Bridge is 65 cm but can be costumed 
The sound is very balanced due to the fact that the the whole body is very carefully tuned.
It features a beautiful strong sounding bass profund mids and high fidelity but strong highs up to the highest tones on the neck - a sound that pleases every performer from classical music to Jazz and Pop Rock (!) and is very easy reachable with a well shaped cutaway.
But you can order this Masterpiece as well as a full bodied guitar.
This is because the Modelo José Feliciano sounds so well balanced!
This guitar is a dream to play or like he told us: "This guitar feels like gold in my hands".
He also liked the fact that had a masculine tone which helps his playing to cut through the band with a strong tone. Each guitar player sounds stronger which means you can play with less effort!
The tuning machines are of the highest quality and are master built by the world famous italian tuning machine maker "Nicolo Alessi".
This guitar also features a pickup system made by RMC, Josés favorite pickup Brand.
As an option it is also possible to install the RMC midi Pickup or to install other Pickups like Carlos, K&K, Shadow etc.
Or just put any good microphone in front of it and you and the public will be exited by the amplified sound.
So what you are waiting for - 
get the dream sound of your live with the fabulous Modelo José Feliciano !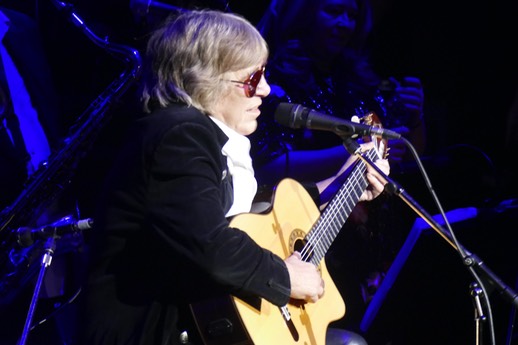 Price: 12 000 €
Hiscox-Case in ivory included tested by ourselves as the best case in terms of heat and cold isolation as well as rigidness (up to five people standing on the case. It is absolutely tour proofed 
on the road and oversea flights.